Here is a collection of resources that complement the workshops that we run.
"Be the change you want to see in the world" said Gandhi. Does that sound a bit daunting? Another good motto is "Start where you are – use what you have – do what you can!"
MENU
(click on the link to scroll down to the right place)
ECOLOGICAL DESIGN
"We have lived our lives by the assumption that what was good for us would be good for the world. We have been wrong. We must change our lives so that it will be possible to live by the contrary assumption, that what is good for the world will be good for us. And that requires that we make the effort to know the world and learn what is good for it." – Wendell Berry
ARTICLES:
This is an introduction to permaculture by James Chapman

 How to make origami plant pots from scrap office paper by Hannah Ayre
Follow the instructions below (you can download and print if you like) and also have a look at this helpful animation
FURTHER READING:
FOREST GARDENING
Alan's Scottish Forest Garden Blog– http://scottishforestgarden.wordpress.com/
PERMACULTURE NETWORKS:
Scottish permaculture yahoo group and Facebook page
Edinburgh permaculture yahoo group
Glasgow permaculture yahoo group
(To join yahoo groups, search for them on yahoo.co.uk)
Permaculture Association of Britain – www.permaculture.org.uk
Permaculture Scotland – www.permaculture.org.uk/scotland
PERMACULTURE BOOKS
An Introduction to Permaculture by Graham Burnett
Permaculture in a nutshell by Patrick Whitefield
The Earth care Manual by Patrick Whitefield
Creating a Forest Garden by Martin Crawford
The Permaculture Garden – Graham Bell

SOIL & COMPOST
Learning how to make good soil that will produce an abundance of rich food is a hugely valuable thing to learn. Some of the most innovative work in Scotland on soil nutrition is being done by Greenway Consulting. We are delighted that their pioneering composters and worm tamers, Ron Gilchrist and Sam Jess, have joined the Seed Truck team.
ARTICLES
Are you a composter or a rotter? by Sam Jess


VIDEOS
Here's Ron introducing the importance of growing food 'nature's way':
Do you want to know exactly how to make your own Class 1 compost?
A more in-depth look at our food system by Ron, who trained as an ecologist.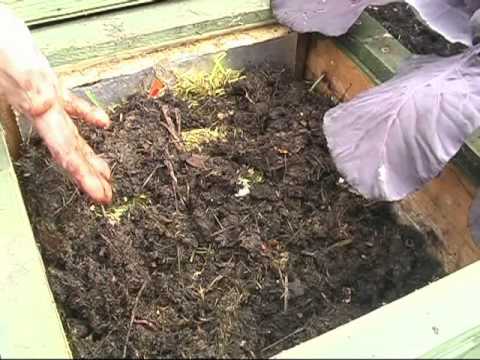 FURTHER READING

BOOKS
Grow Food Nature's Way – Greenway Consulting. Available solely at www.green-way.org.uk
Teaming with Microbes – Jeff Lowenfels & Wayne Lewis. Available at all well rooted bookshops

SOWING & GROWING
Getting started growing your own food can be a daunting thing – where do you start? What should you grow, and when. There are so many books and websites out there with a huge depth of knowledge, so what we have produced is a very simple guide to the basics.
ARTICLES
An easy introduction to gardening, by Elly Kinross

TAKE AWAY SALADS
Heard of fast food? Heard of Slow Food? This is slow fast food in compostable card and corn-starch container for your convenience. Just add water, a little love and care, and wait a couple of weeks.
Read these instructions for how to grow microgreens on your windowsill using a Seed Truck compostable take-away box:
[issuu viewMode=singlePage width=300 height=425 backgroundColor=%23222222 documentId=121120143437-7a77c66a3ab14d36a3d80009624ab00f name=take-away-salads username=fifediet tag=fast%20food unit=px v=2]
FURTHER READING
MICROGREENS
A good guide to growing microgreens can be found here, with examples of the type of plants you could grow.
SEEDS
A good place to get seeds if you are going to buy in bulk is Moles Seeds. We use their sprouting seeds for the take-away salads, as they grow quick and are cheap. You can also get organic ones.
An amazing place to get all sorts of seeds, all of which are non hybrid seeds, meaning that you can save your own seed and grow them again next year is the Real Seed Catalogue.

WILD HARVEST
There is such a huge amount of food growing wild, untended, abundant and free – if you only know where to look. Our ancestors would have considered wild food as an essential part of their diet, and there are many reasons to give foraging a go. The adventure, the great outdoors, the huge nutritional and medicinal benefits. We are lucky to have on the Seed Truck team a seasoned herbalist, Elspeth Killin, who has a huge depth of knowledge about all sorts of wild plants and their uses.
ARTICLES
How to make hedgerow kitchen remedies, by Elspeth Killin

VIDEOS
FURTHER READING
FORAGING
Galloway Wild Foods – a fantastic resource for all the edible foods you can get in Scotland.
HERBAL MEDICINE
The Scottish School of Herbal Medicine

PEOPLE POWERED PROCESSING
The word processed is synonymous today with poor quality mass-produced foods with suspicious ingredients, and yet, the idea of simple processing of food to make it more digestible, tasty, or more easily used in cooking is very old. Here we have been trying out the ideas of human scale processing using pedal power – which is a much more entertaining way of going about it than simply pressing a switch! The Mill Bike was designed by Fergus Walker, the Smoothie Bike by Uula Jero.
ARTICLES
About the ideas behind the mill bike, by Fergus Walker

VIDEOS
Mill Bike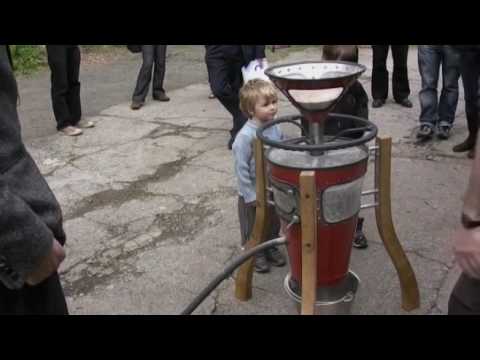 Smoothie Bike
FURTHER READING
BREAD AND FLOUR: If you are in the Fife Diet, use our map to find artisan bread. For UK bread and flour sources use the Real Bread Finder. We recommend Gilchester's Organics in Northumberland, the Blair Atholl Watermill, and Golspie Mill.
MILLS: Fancy being a Dusty Miller yourself? Try UK Juicers or if you are more ambitious, Getreidemuehlen (Austria)
PAYSAN BOULANGERS – FARMER-BAKERS: Jean Francois Berthellot – a French farmer-baker
REAL BREAD: Real Bread Campaign
Research has shown that as soon as the wheat grain is cracked and exposed to the air, the most vital nutrients start to break down – some within hours of milling.
SCHOOLS AND COMMUNITY The Brockwell Bake Association – a really fun project in London who have made bread from scratch with school groups – from growing wheat, harvesting, threshing, winnowing, grinding, baking and feasting! Bake your Lawn Challenge.

FEASTING & STORYTELLING
Stories are like seeds – both live from being held within a community, nurtured and passed. They also need to be celebrated. In Scotland the tradition of the house cèilidh - an informal evening of story, song, music, discussion, music and dancing – is a hugely rich legacy. The cèilidh provides a cultural crossover space that interweaves the arts with political discussion, and nowhere is that more powerfully manifested than in story – so in the work of sowing the seeds of a better food system, we have found the story to be invaluable.
ARTICLES
VIDEOS
Here is a short clip of our first and original storyteller, Marylou Anderson:
FURTHER READING
'The Wonder of Trees – Nature activities for children' by Andrea Frommherz and Edith Biedermann. A season by season joy including storytelling and making story sticks.
'I love my world' by Chris Holland. Packed full of playful ideas on nature, community and creating your own stories.
The Scottish Storytelling Centre in Edinburgh has a library with a great range of folktale collections you can browse.
Go back to the top of the page

The films about the Seed Truck on this page were made by Anna Mignot for a degree in filmmaking at SAE Glasgow.